In order to satisfy even the most demanding customer's needs, we offer a very wide range of white plaster products that will help create a cozy, elegant and yet highly aesthetic interior decorated with your decor. Our offered plaster moldings are natural white, which can be easily painted, but in any other color, depending on your taste or chosen interior style. Gypsum decoration articles for the interior are made of gypsum ceramics using glass fiber, to maintain the strength of gypsum products. Thanks to this technology, most of our gypsum décor items are offered at 3.5 meters. Length, which helps ensure the fast and high quality installation of these products. At the moment, we offer the purchase of various shapes and styles of ceiling cornices, rosettes, half and full columns and other elements of gypsum decoration.
Here you can download a catalog of gypsum decoration elements for interior.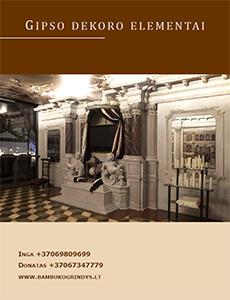 Gypsum decoration orders worth at least € 500 will be executed within 2-3 weeks. The minimum order execution time is 1-2 months, if the product is not ordered from the manufacturer at that time.